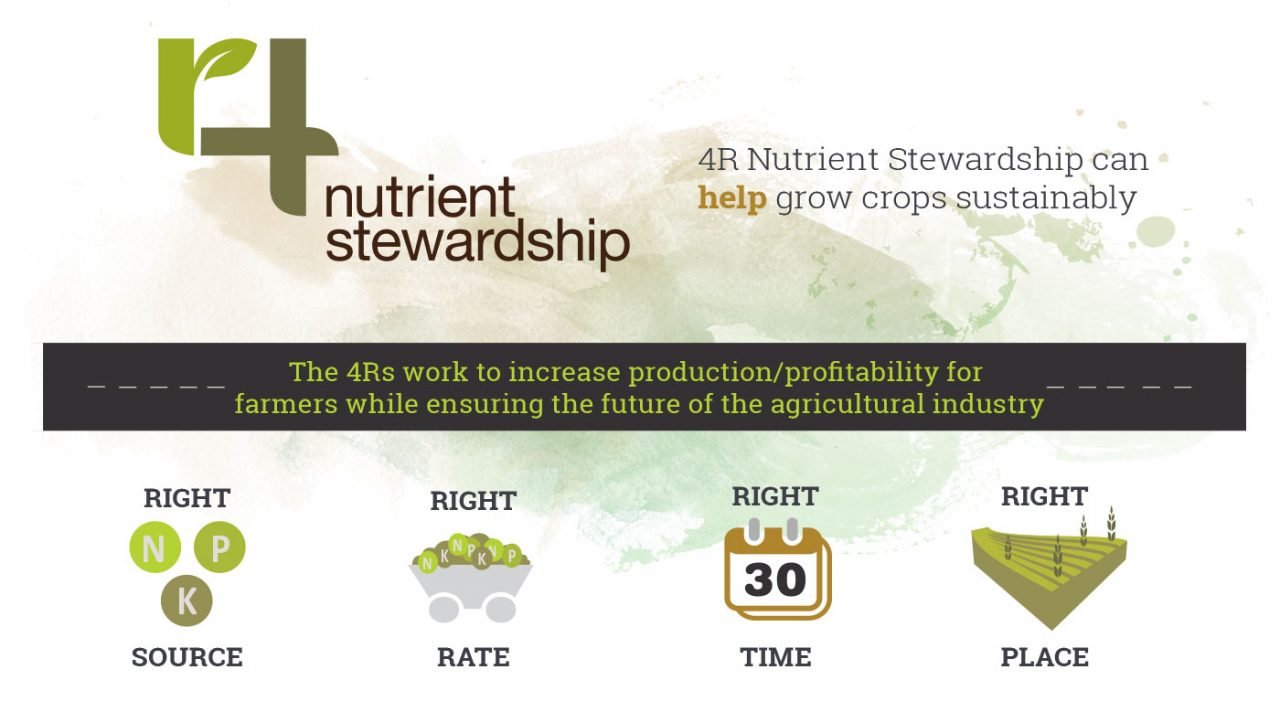 What is 4R Nutrient Stewardship?
4R Nutrient Stewardship is a program based on 4 principles:
Right Source, Right Rate, Right Time, Right Place
These principles were created to help agri-retailers and farmers realize the importance of better nutrient management. Basing our nutrient application off of these principles will lead to the long term improvement of the soils we farm, as well as the Great Lakes water quality. Together, agri-retailers, farmers and agriculture supporters across Canada can work towards reducing our environmental footprint and creating a more sustainable future for our industry.
Sylvite feels that 4R Nutrient Stewardship and the principles that the program promotes is the best way for agri-retailers to prioritize the success and profitability of our customers and the protection of the environment.
Why We're Investing
At Sylvite, becoming a 4R designated agri-retailer is the best way for us to prioritize the success and profitability of our customers, as well as the protection of the environment.
Sylvite Agri-Services currently has six 4R certified locations: Norwich, Silverhill, Putnam, Kent Bridge, Blenheim and Mitchell. We're constantly working towards sustainability, and see ourselves being fully certified, meaning every branch, in the future.
Did you know that Sylvite Agri-Services Kent Bridge was the first agri-retailer location to be 4R certified in Canada?
Sylvite Agri-Services is passionate about the progress that the 4R program is making across the industry. Why? Because the long term benefits of the program, including increased profitability and sustainability, optimized nutrient management and improved soil and crop management all come together to help YOU grow Ontario's food. It's for the benefit of both our customers and the communities that we work and live in that have inspired us to take part in this program.
So what are your next steps? Our dedicated team of Sales Representatives and Ag Consultants are here to support and work with you to achieve 4R compliance. There are a few steps that you should be taking to achieve compliance, and in the long run improve nutrient management on your farm, and they're not hard.
Start with soil sampling!
To be considered compliant, 4R Nutrient Stewardship requires growers to have their soils tested at a certified laboratory prior to any nutrient application. Soil sampling should be done, at minimum, every 4 years. Soil sampling helps to ensure that the right fertilizer is applied at the right rate, at the right time, in the right place.
By basing your nutrient applications off of your soil's specific needs, you can ensure that your crop is receiving the optimal amount of nutrients while avoiding nutrient loss. This will help you minimize your environmental impact and maximize your yield.
Fertilizer can be a large variable cost for growers. By optimizing your nutrient management through soil sampling, you'll receive significant payback in all three areas of sustainability – economic, social and environmental. Sylvite can help you manage the unknowns on the farm with facts and knowledgeable recommendations that keep the success of your farm in mind.
Sylvite wants to help you!
We're here for you. Talk to your Sales Representative or Ag Consultant about how your farm can start investing in 4R Nutrient Stewardship. The benefits speak for themselves! Contact us today; we're happy to provide soil sampling services to you to help you reach your nutrient management goals.
---